May 16, 2023 at 6:00 am – Review by Dusty Somers, read the full article from The Seattle Times here
There's a malevolent force lurking in the shadows in Justin Huertas' new musical, "Lydia and the Troll," aiming to steal the abilities and derail the plans of our not-so-intrepid protagonist. Non-spoiler alert: It's the troll. But it could also be smothering insecurity, and if you think these concepts are tied together by flimsy metaphor, you probably haven't seen a Huertas show.
"Lydia and the Troll," now onstage in a world-premiere production at Seattle Rep, bears all the traits of the Huertas brand: a whimsical fantasy world populated by all-too-human characters, irrepressibly catchy numbers that don't skimp on the lyrical complexity, and a light touch that tells stories with capital-E emotions, minus the sentimentality.
It's been an eventful near-decade for Huertas since Seattle Rep first commissioned "Lydia and the Troll" in 2015, shortly after staging his breakthrough "Lizard Boy." "Lydia" was announced, then pulled from the Rep's 2019 season, then announced again for what would be a COVID-thwarted 2020 season. In the meantime, Huertas staged several original shows at ArtsWest, premiered the new musical "The Mortification of Fovea Munson" with collaborator Steven Tran at the Kennedy Center, and landed an off-Broadway production for "Lizard Boy," opening in June.
But at last, "Lydia and the Troll" is here, directed by co-creator Ameenah Kaplan to draw out the grace notes amid the propulsive pacing.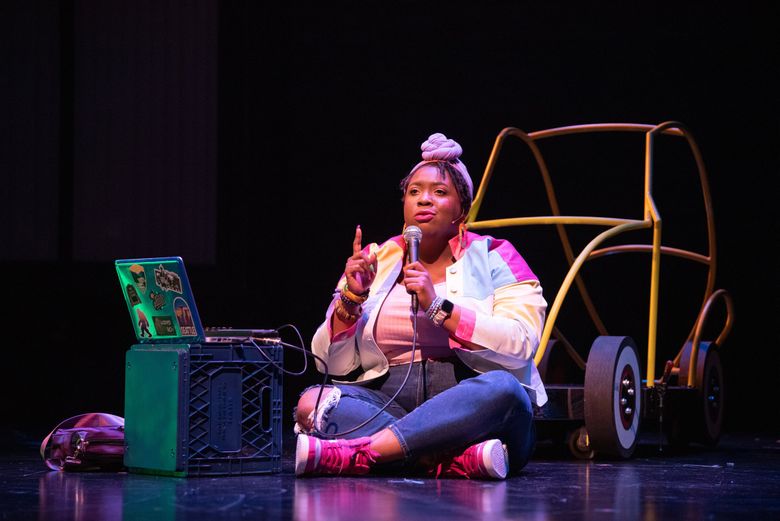 Like "Lizard Boy," this show is essentially a three-hander. Lydia (Sarah Russell) is an aspiring music producer whose shot at a lucrative songwriting grant hinges on her ability to pen a new tune before the showcase at Columbia City Theater — tomorrow. Her boyfriend Pete (Adam Standley) — who, like Lydia, is recovering from alcoholism — feels their connection drifting, even as he makes bigger plans for the future. And then there's Jane (Janet Krupin), who sees Lydia's music livestream and feels an instant connection.
But Jane is no ordinary fan. She's not even human.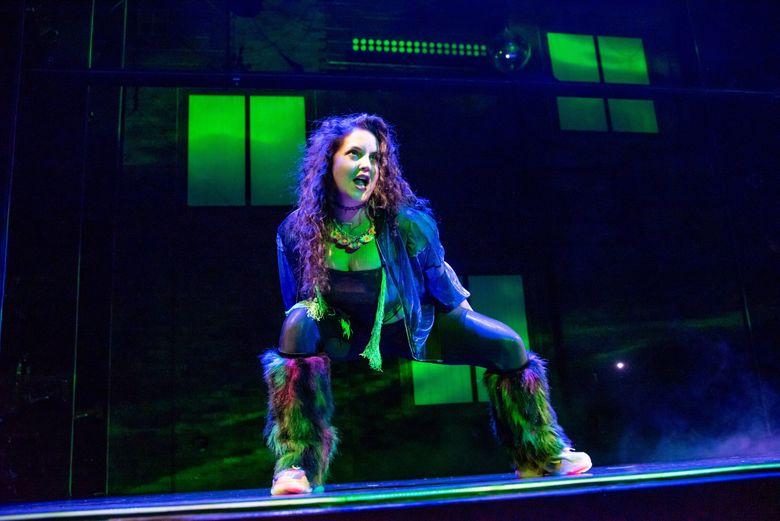 Huertas excels at economically elucidating his fantasy realms and their rules, as he does here with Jane's opening number that sets the scene: She's a troll who's taken over a human's body, but she only gets 20 years before she must find a new vessel. Time's almost up, and if she can't persuade a new victim to share a deep secret, she'll revert into a hulking, hideous creature.
Fortunately for one of them, Lydia isn't great at keeping secrets. And as she struggles to come up with ideas for her songwriting showcase, she's drawn to Jane's seemingly dependable listening ear. Russell's performance acutely accesses Lydia's self-doubt — about her talent, her relationships, the way her Blackness will be perceived by industry gatekeepers — and strikingly contrasts it with her assured, sterling singing voice.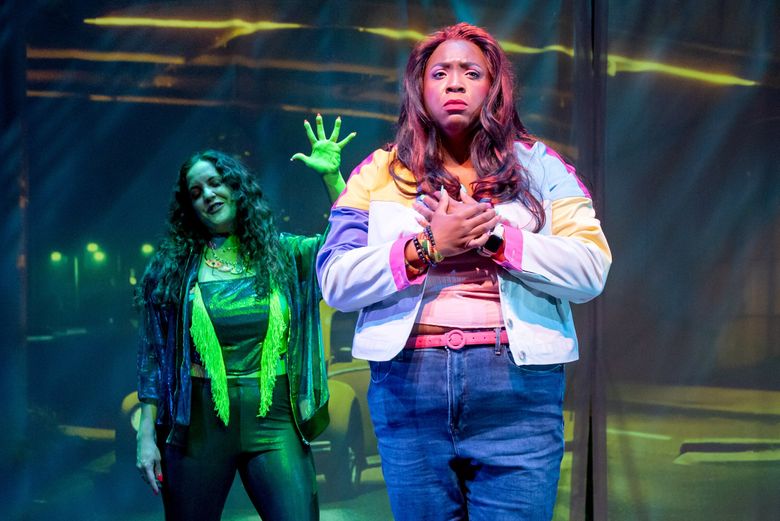 Huertas' songs (with music supervisor Tran providing additional music) for Lydia are anthemic indie pop numbers with minor-chord energy. "I think most of my love songs are about breakups," Lydia admits to Jane.
For Pete, the love songs he sings are more like veiled threats, an emo-inflected ballad suddenly flooded with car-crash imagery and an ode to the future with Lydia built around indulging their worst impulses. Standley's blithe physical comedy chops sit uncomfortably next to Pete's toxic, manipulative tendencies.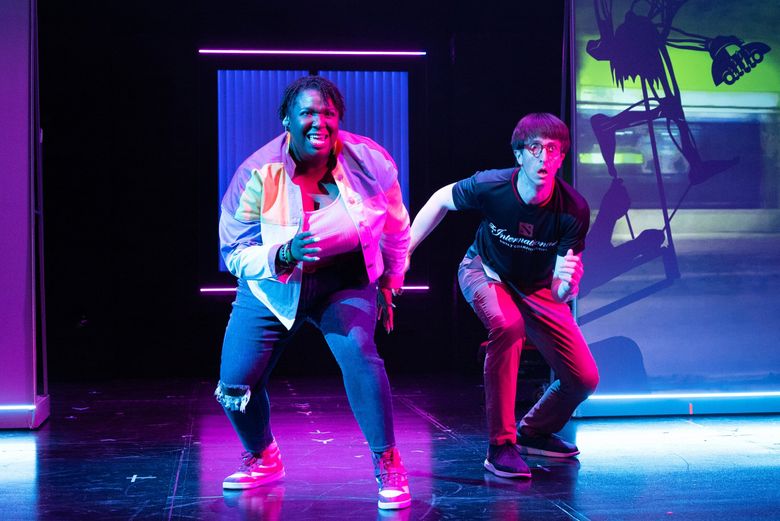 Less complicated but more fun: the villain, and Krupin is clearly enjoying herself, bringing a slinky aura and a powerhouse voice to her songs' dark synths and dubstep beats. Sure, she's evil, but kind of likably so?
The show's fantastical elements are brought to life by Guy Garrison's cutout puppets, silhouetted against panels to depict the troll's true form or used to amp up action sequences like a late-night Lime bike chase across town. Performed by puppeteers Garrison and Sophia Franzella, these elements add a wonderfully tactile quality to a staging that's otherwise heavily reliant on projections. But they can feel a little incidental to some key scenes, with transmogrifications and body swaps largely left to the imagination.
This is in keeping with Huertas' preference for the meaningful over the spectacular, though a late appearance by a local landmark certainly qualifies as some well-earned spectacle. It's the kind of climax that seems tailor-made to be accompanied by a happily-ever-after swell of passion. If that's what you're expecting, you probably haven't seen a Huertas show.
"Lydia and the Troll"
Book, music and lyrics by Justin Huertas, directed by Ameenah Kaplan. Through June 11; Seattle Rep, 155 Mercer St., Seattle; $57-$87; 206-443-2222, seattlerep.org